Pride House Glasgow was run by LEAP Sports Scotland and held at the XX Commonwealth Games in Glasgow 2014.
The first ideas around an LGBTI specific initiative came from a community consultation back in 2011 where the Scottish LGBTI community were asked what they wanted to see happen at the Games and what legacy we wanted to have. The concept of an online Pride House was developed, and then following involvement in the Commonwealth Games Legacy for Communities project, plus a visit to Pride House in London 2012, plans began to emerge for a physical space.
Pride House Glasgow benefited hugely from a key central location based next door to the Games Organising Committee and allowing for excellent joint working and involvement.
Prior to opening, the team run a programme of 12 events as part of the Sochi Remote Pride House initiative, as well as events at Pride Glasgow and other key events. Pride House Glasgow run events from 20th July, formally opening on 22nd July, through to the 4th August 2014.
[rev_slider ph_glasgow]
Aims and Objectives of Pride House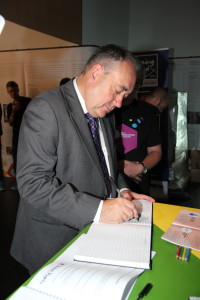 The aim of Pride House Glasgow was that it: aims to be a welcoming place to view the sports competitions of the Commonwealth Games, to enjoy the event, to learn about LGBTI sport and homophobia in sport, and to build relations with mainstream sport. In fitting with other Pride Houses it seeks to be a venue welcoming LGBT athletes, fans, and others and their allies during international sporting events.
The objectives planned for Pride House were:
CELEBRATE: Pride House will celebrate Scotland's LGBTI community, particularly in sport and the arts.
PROMOTE: Pride House will promote Scotland to the world's LGBTI community as a place to live, work, visit, study and do business and its commitment to equality.
WELCOME: Pride House will welcome the world's LGBTI community to Scotland during the Commonwealth Games
COLLABORATE: Pride House will bring together a range of organisations within the sports, equalities and culture sectors and beyond to collaborate in creating the programme for the Games and a legacy for the future.
INCLUDE: Pride House will specifically include the LGBTI community in Scotland and abroad in the celebration of the Commonwealth Games, Homecoming Scotland and the Culture 2014 programmes to inspire the engagement of LGBTI in sport both during and after the Games.
These objectives were a clear fit with the wider Commonwealth Games legacy programme, and in particular fitted with the 'Active' and 'Connected' strands of the programme .
Key Facts
Over 6,000 people came through the doors of Pride House during the Commonwealth Games 2014.
90 Pride House events took place, 63 in Pride House, 5 using Pride House as a base, and a further 22 events in other areas of Scotland.
Pride House received direct funding of £35,000. This was £25,000 which came from The Scottish Government, and a further £10,000 from the Big Lottery Celebrate Fund.
A huge amount of 'in-kind' support was received to refurbish the venue directly from Glasgow City Council.
Pride House Glasgow was the first Pride House ever to be delivered at a Commonwealth Games, and the first ever to receive direct support and funding from a host Government.
Many events on the programme were provided for free through sponsorship and support from local and national businesses.
A minimum of 39 different countries and territories (23 Commonwealth and 16 other) visited Pride House (39 were recorded as having signed in).
33 different sports groups, clubs or associations were involved in the delivery of Pride House and its programme; this includes LGBT specific sports groups.
35 non-sports group partners were involved in the delivery of Pride House and its programme.
More on the Pride House Glasgow programme.
Evaluation information
Some headlines below:
Over 1500 volunteer hours were spent on Pride House in total, with over 900 of those during the Commonwealth Games period.
93% of volunteers reported an increase in confidence as a result of volunteering for Pride House.
71% of volunteers expressed an intention to volunteer again in a sports, LGBT or community project.
63% of participants in sports activities stated that they were interested in finding out more about sports clubs, 59% of whom reported no current activity.
57% of participants stated that they learned more about opportunities to get involved in sport or activity as a result of their visit.
77% of participants felt that the event they attended showcased Scotland as a destination for tourism and culture.
60% of participants stated that they were more likely to get involved with something sport, LGBT or community-related as a result of visiting Pride House.
The inclusive Games
Being one part of a wider equality and human rights strategy for the Games was a central part of what made Pride House Glasgow a success. 42 of the 53 member nations of the Commonwealth continue to criminalise consensual same-sex activities between adults. LGBTI activists have rightly questioned the best way to deal with countries whose LGBTI laws and wider human rights records raise serious issues. This has been a difficult one to resolve and the anger and hurt expressed in relation to such countries inclusion in the games is understandable. Lobbying for a system where some countries might be banned on the basis of their human rights records was always going to be an unconvincing solution, especially taking into account many of the issues raised remain a legacy of colonialism and imperialism.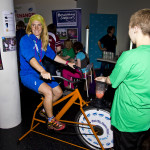 LGBTI and human rights organisations collaborated with the games organisers and the Scottish Government to look at the right way to address this issue. It was agreed that we needed to be led by the experiences of activists in Commonwealth countries as 2 weeks of high profile spotlights on human rights issues would not make an impact unless we could form relationships, support, inspire and empower our peers on the ground elsewhere in the Commonwealth. We also agreed that we would recognise how far Scotland has come over the course of successive Commonwealth Games but be clear about highlighting where inequalities remain. Finally, it was agreed that we would not employ condemnation or dominating positions; but that we made every effort possible to demonstrate inclusion and diversity, to welcome and inspire and to give clear strong messages about what these issues mean to us and their importance to us here in Scotland. This is summed up well in a Parliamentary legacy speech by Pride House Patron, Marco Biagi MSP who said 'We want to demonstrate the kind of Scotland that we are, that we want to be and that we are increasingly becoming'.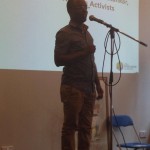 Prior to the opening ceremony, First Minister Alex Salmond spoke publicly about the commitment to equality as it was announced that the Scottish Government would fly the rainbow flag from its headquarters at St. Andrews House for the duration of the Games. At the Pride House opening ceremony party that evening, Pride House Champion, the Human Rights Activist and director of the Peter Tatchell Foundation, Peter Tatchell praised what he called a strong affirmative commitment to LGBTI human rights as he told campaigners, activists and those gathered to celebrate, that:
"Alex Salmond's statement of support for gay rights at the Commonwealth Games in Glasgow is a first. The leader of no other host government at either the Commonwealth or Olympic Games has ever made such a positive pro-gay equality statement and backed it up with concrete visible support by flying the gay rainbow flag from government headquarters for the duration of the Games. This is a pioneering, trail-blazing statement by the leader of the host nation"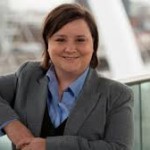 The mood in Pride House was to be further buoyed when John Barrowman kissed a man as part of the opening ceremony, sending out the boldest statement yet. Susan Calman, another Pride House Champion said:
"You can write all the words that you want but one kiss in front of 1.1 billion people does more to set out our stall with regards to our beliefs than any headline or opinion piece could. I'm pleased that equal marriage was celebrated and highlighted as part of what makes Scotland such a brilliant place to live. I'm a champion of Pride House, It's an amazing place. It's somewhere for athletes and tourists from other countries to come and talk or get advice…We can't lecture any country about what they do and their culture and history. But what we can do is say that Glasgow is a very forward-thinking place to live and a very accepting city. "
Visit the Pride House Glasgow site to learn more about their Patrons and Champions.