Pride House PyeongChang 2018
In the summer of 2015, representatives from the Korean Sexual-Minority Culture and Rights Center (KSCRC) attended the Sport Inclusion Summit, hosted by Pride House Toronto and the 519 community centre. They were there to begin their planning for a Pride House to coincide with the 2018 Winter Olympic Games to be hosted by PyeongChang, Korea. It would be the first Pride House in Asia.
Over the course of the following three years, KSCRC worked with local media to develop and distribute guidelines, with the Canadian embassy to hold a lecture on homophobia and sport, and with Korean funders to raise interest in and money for Pride House PyeongChang. Concurrently, Pride House International was in talks with the Canadian Olympic Committee about the possibility of having the National Olympic House offer support, and in early 2018 the COC agreed to offer Pride House PyeongChang activations in the Canada Olympic House. This was the first time any National Olympic Committee had officially endorsed Pride House activities.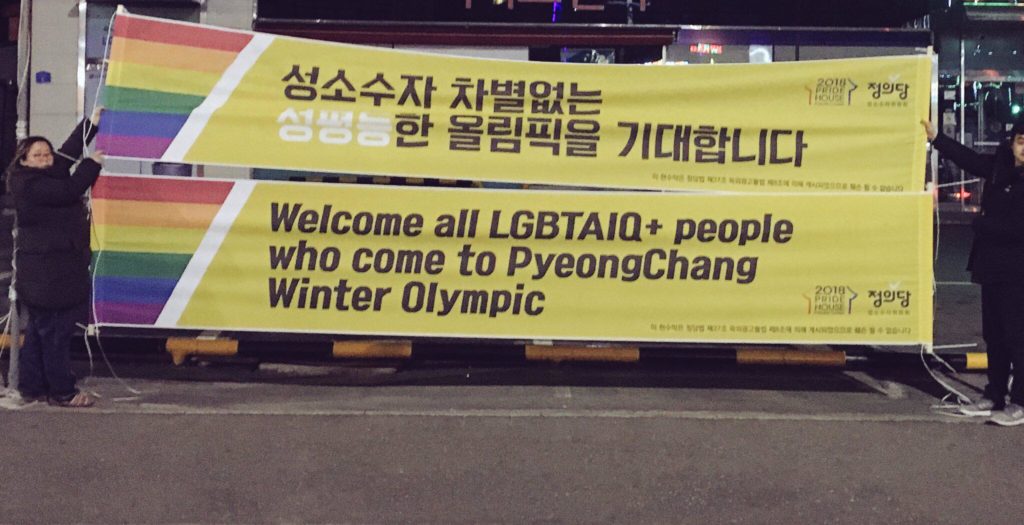 Activities during the 2018 PyeongChang Olympics
Working with the Justice Party, KSCRC hung banners welcoming LGBTAIQ+ visitors to the region.
A viewing party was held at LGBT+-owned The LINK cafe in Itaewon, Seoul. During the figure skating competition, guests enjoyed refreshments and food, spoke with media, and socialized. Guest speakers included Candy Yun and You Holic from KSCRC and Dean Nelson, the founder of the Pride House concept.
An opening reception was hosted by Canada Olympic House.
All visitors to Canada Olympic House were greeted by a welcome sign. Pride House International was consulted on the wording of this sign, which explicitly welcomed people or various sexual orientations and gender identities. The sign was in English, French, and Korean.
Ben Scrivens, goaltender for the Canadian National Men's Hockey Team, donated an autographed stick used at the Games and wrapped in Pride Tape. The donation was captured and broadcast by the Facebook Live team in the Canada Olympic House. The stick was put up for auction with the proceeds go towards KSCRC's ongoing work.
There were several in-person activations in the Canada Olympic House where members from KSCRC and PHI staffed a Pride House table, gave away buttons, and encouraged people to take photos with the Pride House "selfie board".
Pride House founder Dean Nelson travelled to Korea and held a media event with out athletes Canadian skater Eric Radford and United States skiier Gus Kenworthy.

You can see more images from these events on the Instagram account for @PrideHouse and the Facebook page for @Korean Sexual Minority Rights and Culture Center.