These artists and activists have offered their work to be used at Pride Houses in the past.
Please contact Pride House International to help you obtain these works with permission.
Charlie Wall-Andrews, world music artist DIA, and Robert Di Bartolomeo
Pride House Toronto commissioned artist and orchestral musician Charlie Wall-Andrews, world music artist DIA, and Robert Di Bartolomeo at Tea Garden Studios to produce an anthem for Pride House. The piece debuted during the 2015 Pan/Parapan American Games in Toronto, Canada
https://www.youtube.com/watch?v=8afDgWylGKk
Jeff Sheng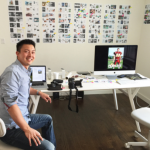 Jeff Sheng is an American photographer who first attained recognition for his series Fearless, a project about "out" lesbian, gay, bisexual and transgender athletes on high school and college sports teams.  Since 2003, he has photographed over 200 "out" athletes, and he has spoken about and exhibited the Fearless Project at over seventy different venues, including dozens of college campuses as well as at several Pride Houses.
Recently, the project was turned into a photography book called FEARLESS: Portraits of LGBT Student Athletes. Learn more about Jeff's work at his site.

The European Gay and Lesbian Sport Federation
"Against the Rules – Lesbians and Gays in Sport" is an exhibition originally supported by the acceptance campaign office of the ministry for youth, family and health of the North Rhine-Westphalia regional government and SC Janus, Cologne's Centrum Schwule Geschichte (Gay History Centre). It was updated by the European Gay & Lesbian Sport Federation (EGLSF) in 2010 and translated into English. In 2012, it was updated again and translated into French, German, Hungarian, Italian, Slovenian, Slovak, and Spanish.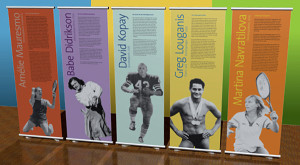 The exhibition consists of 37 banners in total, with information on "out" elite athletes, discrimination, and lesbian and gay sport clubs and federations like the Federations of Gay Games, OutGames, and EuroGames. LGBT athletes Amelie Mauresmo, Babe Didrickson, Billie Jean King, Bob Paris, David Kopay, Gottfried von Cramm, Greg Louganis, Heinz Bonn, Ian Roberts, Imke Duplitzer, John Blankenstein, Judith Arndt, Justin Fashanu, Marcus Urban, Marie Carsten, Mark Tewksbury, Martina Navratilova, Otto Peltzer, Parinya Kiatbusaba, and Tom Waddell are also portrayed.
The Equality Network
"LGBTI People of The Commonwealth" is an exhibition which recognises and celebrates the work of LGBTI groups and organisations in the 53 countries that make up the Commonwealth, to raise the visibility of LGBTI people and their lives during the Commonwealth Games and beyond.

Taskovski Films
Taskovski Films is an international sales company that represents award-winning documentaries, many of which are related to sports, social issues, and human rights. One example is "Tackling Life", a 2018 German film by Johannes List. "Tackling Life" follows the members of Germany's first gay rugby team, the Berlin Bruisers, through their daily lives and their rugby season. WATCH TRAILER HERE.
To get licensing permissions for this or others represented by Taskovski, use this contact:
Ana Fernandez Saiz
salestf [at] taskovskifilms [dot] com
+ 33 (0) 6 20 65 33 03
+ 44 (0) 77 042 78 251
Skype: a.fernandezsaiz
www.taskovskifilms.com
Related Resources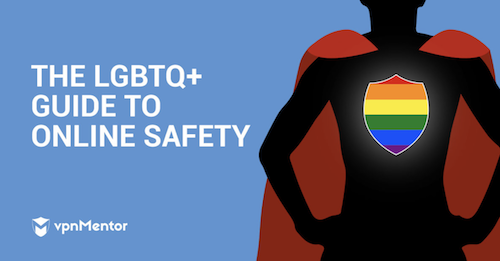 Did you know that 73% of LGBTQs have been harassed online due to sexual orientation or gender identity? This guide aims to empower them and give them the tools to protect themselves online. Link to the site