Pride House International update on remote Pride House events
Logo announced for worldwide events during Sochi Games to show support for Russian LGBTs and for equality in sport
Contact: pridehouseinternational@gmail.com
Lou Englefield, coordinator (Manchester): +44 7949 604610
Marc Naimark (Paris): +33 6 63 02 03 68
Dean Nelson (Vancouver): +1 (604) 288-7218
http://pridehouseinternational.org
Previous press releases
————————
7 January 2014
Pride House International update on remote Pride House events
Logo announced for worldwide events during Sochi Games to show support for Russian LGBTs and for equality in sport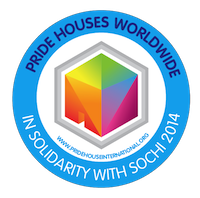 Pride House International today provided an update on its call for groups around the world to host Pride House events in their community during the 2014 Sochi Olympic and Paralympic Games, and released a logo for use by these "remote Pride Houses".
Lou Englefield (Manchester), Pride House International coordinator, announced that groups in Vancouver (Whistler), Los Angeles, San Francisco, Washington, Chicago, Cleveland, Toronto, Montreal, Philadelphia, Glasgow, Manchester, London, Copenhagen, Paris, Brussels, Utrecht, Amsterdam, Wellington, Sao Paulo, and Brasilia had already expressed serious interest and begun planning for events ranging from the distribution of tracts to viewing parties at sports bars to a full-fledged Pride House open over several weeks. "We've been so impressed by the interest shown. At its heart, a Pride House is a place for LGBT visibility in sport. It makes sense for people in the LGBT sports community and their friends to come together to celebrate their love for sport. With the Russian court's ban on a Pride House in Sochi,, what might otherwise be just a nice thing to do has become a necessity."
Les Johnson (Washington) of the Federation of Gay Games, urged interested parties to continue to write to Pride House International at pridehouseinternational@gmail.com: "Pride House International needs to be able to serve as a clearinghouse for information on plans for remote Pride Houses. We're working on a calendar and other tools to share information, and hope to be able to put various events in contact with each other and with actions taking place in Russia so as to increase the impact of what we're all doing in our local communities. We've already had several cases of different groups in the same city planning for a remote Pride House, and have been able to put these interested and motivated people in touch with each other. Our role is to help coordinate these events."
Daniel Vaudrin (Montreal) of the Gay and Lesbian International Sports Association announced that PHI would be making available a logo for "Pride Houses Worldwide", that each remote Pride House was encouraged to use: "The logo, created by Jen Watts, incorporates the original Pride House London logo, adding a message: 'In Solidarity with Sochi 2014', which is at the heart of our common action. We are celebrating LGBT sport and LGBT visibility in sport, but are particularly concerned by the situation of those in Sochi, and those who will remain in Russia long after the 2014 Games are over." The remote Pride House logo is available for all to use and can be downloaded at http://www.pridehouseinternational.org/?p=291.
Englefield added that an initial calendar of events would be available online by mid January.
—
About Pride House International
Pride House International is a coalition of LGBT sport and human rights groups, including participants in past and future Pride Houses, united to promote the cause of equality in and by sport and the creation of Pride Houses at international sporting events.
What is a Pride House?
A Pride House is a venue welcoming LGBT athletes, fans, and others and their allies during international sporting events. Akin to the various national houses at such events, they are welcoming places to view the competitions, to enjoy the event, to learn about LGBT sport and homophobia in sport, and to build relations with mainstream sport. The first Pride House was organized for the 2010 Winter Olympic and Paralympic Games in Vancouver/Whistler, with others following in Warsaw (2012 UEFA Euro football cup) and London (2012 Summer Olympics). Pride Houses are planned for the 2014 Commonwealth Games in Glasgow, 2014 FIFA World Cup in Brazil, the 2015 Pan-American Games in Toronto, and the 2016 Summer Olympics in Rio.