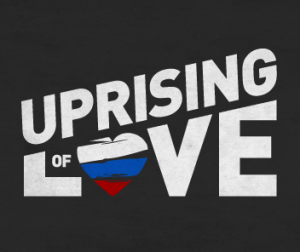 At this unique moment in history, when we are seeing such rapid progress in the fight for equality in the West, we cannot be blinded to appalling crimes against humanity elsewhere. Today in Russia, lesbian, gay, bisexual and transgender (LGBT) people are facing harassment, arrest and violence under a set of horrific new laws. For their sake, we must come together and start an uprising of love.
THE GOAL OF THIS MOVEMENT IS TWOFOLD:
1. To support the LGBT community in Russia and foster an atmosphere where Russians feel bolstered to be themselves and speak up for this cause.
2. To raise awareness among the international community to continue to build public pressure and vigilance.

Visit the website uprisingoflove.org