August 1 – Calls have been launched for the International Olympic Committee (IOC) to help set-up a Pride House during the 2014 Winter Olympics in Sochi to help ensure the safety of homosexual athletes, officials and spectators attending the Games amid fears that they will be targeted due to Russia's new controversial gay hate law.
A coalition of organisations, including the largest international lesbian, gay bisexual and transgender (LGBT) sports groups, have written to IOC President Jacques Rogge to seek his backing for the proposal. "Like you, we hope that no-one involved in any way with the 2014 Games will have cause to fear the Federal legislation," they write. "One way for you to demonstrate this is by hosting a Pride House in Sochi under the aegis of the International Olympic Committee and, to ensure everyone's safety there, by having one or more members of the IOC present at all times." A Russian judge last year blocked plans for a Pride House during Sochi 2014, who described the idea as "extremist". Details of the letter emerged as Russia's Sports Minister Vitaly Mutko confirmed that any athletes who engaged in actively promoting homosexuality during Sochi 2014 would be punished.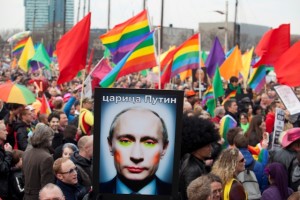 Russia's contentious law was signed by President Vladimir Putin in late June, imposing fines on individuals accused of spreading "propaganda of non-traditional sexual relations" to minors, and even proposing penalties for those who express these views online or in the news media. Gay pride rallies also are banned. "An athlete of non-traditional sexual orientation isn't banned from coming to Sochi," Mutko said in an interview with state news agency RIA Novosti. "But if he goes out into the streets and starts to propagandise, then of course he will be held accountable." The law specifies punishment for foreign citizens, to include fines of up to 100,000 rubles (£2,000/$3,000/€2,700), time in prison for up to 15 days, deportation and denial of re-entry into Russia. The new coalition, which is led by organisers of the Gay Games and Pride House, have refused to back calls for a boycott, though.
"We believe in action that is concrete and goals that are attainable," said Lou Englefield, director of Pride Sports UK. "We also believe in listening to our partners in Russia who tell us they don't want a boycott. Athletes should not bear the burden of Putin's homophobic regime and what is in effect the complicity of the IOC. A boycott punishes hard working athletes rather than challenging repression and those sports organisations which knowingly choose hosts that fail to respect the human rights proclaimed in their own charters. Our letter to Jacques Rogge is just the first step in action on Sochi. We will be soon announcing other aspects of our campaign, including action that each and every person attending the Sochi Olympics can take part in to show the Russian authorities that their homophobic laws are unacceptable, and to show the IOC that it cannot choose hosts that flout the most basic human rights of freedom of expression and assembly."
Among those backing the campaign is Dean Nelson, founder of the first Pride House at the 2010 Winter Olympic and Paralympic Games in Vancouver and Whistler. "Over the past four years since the 2010 Games, many sporting bodies have made tremendous headway in creating safer environments for our athletes and support staff to participate and focus on sport," he said. "No Government, no politicians, can be allowed to turn back the clock. "We all must defend our athletes, coaches and trainers to ensure they are able to participate free from discrimination of any sort including sexual orientation, gender expression and gender identity."